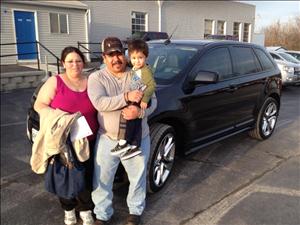 I GLAD TO BE FRIEND WITH CHRIS AND ROB, AND I WANT TO BE GRATEFUL TO CHRIS FOR HIS HELP TO BUILT MY CREDIT, I BOUGTH FOUR DIFFERENT VEHICLES IN CHILLICOTHE FORD AND I THINK ABOUT THE NEXT ONE UNTIL AFTER SEVEN YEARS. ;)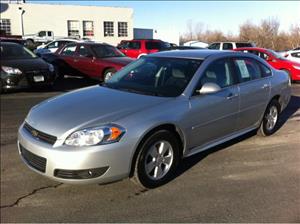 Dennis and Ellen Still
We have been driving our new Impala for a little over a week now and just love it! Thank you again Gordy for working so hard to find us the perfect car, we couldn't have found a better salesman. keep up the great work my friend.
Kurt Milanovich
I just bought my third used vehicle Chillicothe Ford and I also have bought one new vehicle from them in the past they were great to work with and give a fair deal. Kurt Milanovich
Recall/Service
I received a recall for my 2008 Escape. I knew I was NOT going to take it to Pettijohn's in Bethany which was considerably closer for me. Anyway, one of the tech's I work with reminded me of you all. Ding ding ding, my cousin, Terry Kinnison works for you. Seemed to be a no brainer for me. I spoke with Warren & Gary, both were very pleasant, I informed them I had a recall, and needed my car aligned, & tires rotated while it was there. Warren called me to tell me the right front strut was bent. Of course price was mentioned. We discussed doing the left side as well, kind of useless to put only 1 new strut on. I was so very pleased with the service. And the bonus for me, my car had been vacuumed & dusted! Woohoo! It's gonna be a gold star kind of day! Thank you so much! Ruth Lewis
Thanks Chillicothe
I sent this to a local newspaper but don't know if they will print it or not, so I wanted to be sure the Ford dealership in Chillicothe MO gets this very thankful message. A very bad experience turned out well thanks to the people in Chillicothe. This note of thanks comes from two travelers who spent two stressful days in Chillicothe last week with a highly worrisome truck problem. Being stranded 700 miles from home in a totally unknown town is extremely trying. Who do you call for help, what if the mechanic isn't good, where can you stay, where will you eat? The people of Chillicothe stepped up to the plate to help us, above and beyond, and we would like to thank some of them. We made a call for help at 6:30 AM to the local Police department, who recommended a diesel mechanic (who, unfortunately, didn't work on smaller diesels; but he, in turn, recommended the local Ford dealership). We had to find a way to dump our RV tanks first, as the cold weather was upon us. The Mathews Brothers Sewage business was so very helpful and accommodating; it was a first for them and us, but it worked superbly at 7:15 AM, long before their business opened for the day. We were at the Ford dealership before 8 AM and the Service Manager got us right in, knowing we needed to get back on the road quickly. It took two days to diagnose an electrical problem; but, thanks to Dave, the extraordinarily talented and unflappable diesel mechanic who worked tirelessly, even going without lunch the second day, I think. He found a hidden problem and never gave up until we were back on the road. He was our hero! All of the staff at the Ford dealership was so nice to us as we sat for two days in their waiting room with a 10-month-old puppy. We stayed at the Days Inn for two nights, and the gals at the desk showed us great hospitality as well-and our thanks to their maintenance guy for fixing our door immediately late at night and giving us some local tips that helped. An unpleasant experience was lightened considerably by such nice people and a wonderful mechanic. We wanted to say thanks to the people in Chillicothe MO. We'll pay it forward. Tusen Takk (Norwegian for 'a thousand thanks') from Minnesota. Bob/Jeanne Swick Moorhead MN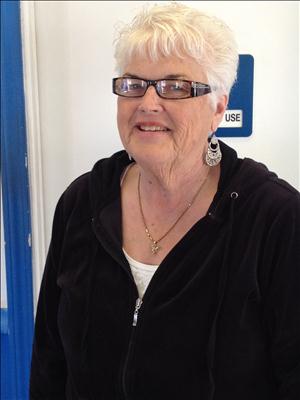 Barb Davis
I have been a fan of Chillicothe Ford for many years. Anytime my late husband Dewey and I needed a vehicle or service of any kind it has always been Chillicothe Ford. They have always gone out of their way to take care of me. The hour and 20 minute drive to me is well worth the best service! I would never go anywhere else!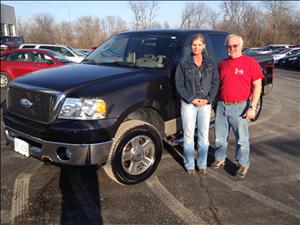 Mr. & Mrs. Cooksey
Buying a vehicle makes some people nervous but, Rob is just a good old boy and he made the whole experience easy. Mr. & Mrs. Cooksey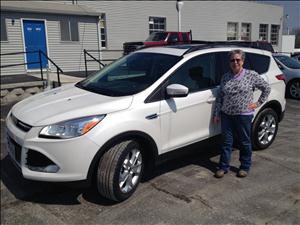 Betty Nowels
Eric took such good care of me when I bought my 2005 Freestyle I called him recently to let him know what I wanted. He did not have the exact Escape I wanted, but offered to get it in for me at a good price with my trade in so we made a deal. Its nice having a friendly easy to deal with local dealership!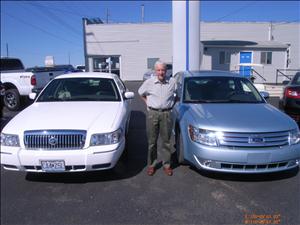 Frank O.
Barbara and I appreciated how easily the folks at Chillicothe Ford were able to find me a white Grand Marquis with low miles and have it here so quickly. We are very happy!!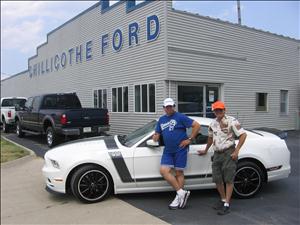 Luke B.
I live within a mile of Gary Crossley, but was referred to Rob by a friend. I am glad I called him. Rob found me the car like I wanted, brought it in from Oklahoma City, and Chris got me a great finance terms. Consider me completely satisfied!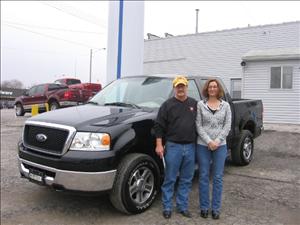 Frank Chaney
I have been very satisfied with my dealings with Chillicothe Ford. They have taken good care of me on my last 2 Trucks.
Frank C.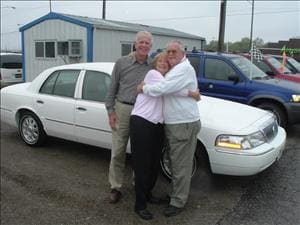 Roger & Marge Batson
Even after we retired and moved to Arkansas we still do business with our good friends at Chillicothe Ford. 
Roger & Marge B.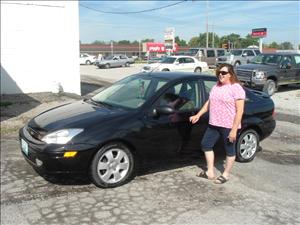 I have bought somewhere near 20 vehicles from Chillicothe Ford over the last 15 years or so. They are a little out of my way but they always seem to go out of their way to take care of me and my families needs so it works out great. I will continue to do business there for the next 15 years. - Patty S.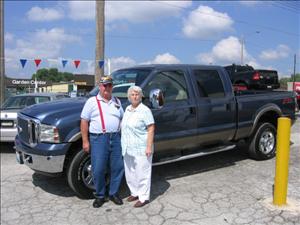 Thelma McKiddy
My late husband Richard and I love the service department at Chillicothe Ford. We have bought vehicles there for quite some time and they always do everything they can to make sure we are satisfied. They did not have the exact car we wanted in stock last time, but they went and got it from another dealer and made it seem so easy! - Thelma M.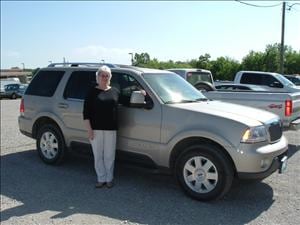 Marilyn Heckelbeck
Chris has sold me my last 2 vehicles and I love the way the service department takes care of my vehicles! 
Marilyn H.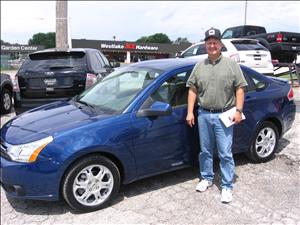 Loren Pieper
I work at the Ford plant in Claycomo and can get an A-Plan discount at any Ford dealership I want, but I choose to deal with Chillicothe Ford. The personal attention is so much nicer than at one of the large "Big City" dealerships I dealt with. Chris has sold me an F-150 from stock, a Mariner he ordered in just like I wanted it, and the Focus you see here which he went and got from another dealer who had the one I wanted! 
Loren P.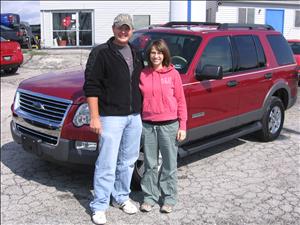 Jared & Sarah Ford
After North Country closed I did not know where to go to buy a car, but fortunately I stumbled onto Chillicothe Ford. My wife Sarah and I were very pleased with the deal we got on our Explorer and how we were treated was very friendly and honest. It was worth driving a little ways to meet them and make the deal. - Jared & Sarah F.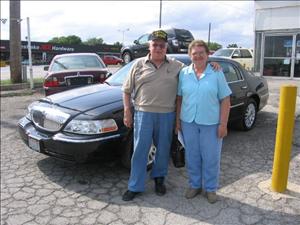 Roy & Gladys Flemming
I used to think you would get a better deal in the city buying a car so I tried it. I felt like a walking dollar sign at the big dealerships I visited. I quickly realized that not only do you get much more personal attention at a smaller local dealer like Chillicothe Ford, but I was pleasantly surprised with how competitive they could be as well. It doesn't hurt that Bob is a fellow Vietnam veteran like me and you always know where you stand with him.  - Roy & Gladys F.